Residential
Real Estate Photography
for
the DIY-er
The eBook you wouldn't expect a pro to write
If you could net at least $1000 extra on the sale of a property and sell it quicker, would you invest $27 to learn how? (Not a trick question.)
If you're going to shoot your own photos and can admit to yourself that an experienced pro just might be able to show you a few tricks that will set your images apart from another seller's, then the decision to buy my eBook is a no-brainer.
Plus, it's an inexpensive, one-time investment in your own ability to do the same thing with every other property you will ever shoot and sell. That, dear reader, is great leverage!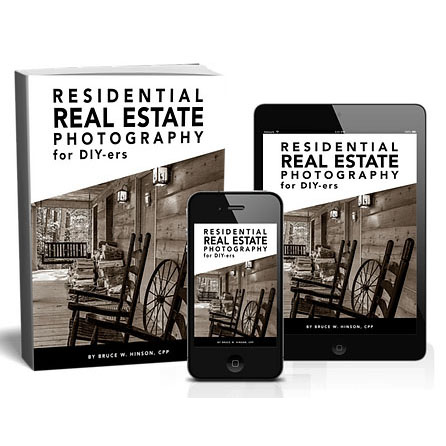 As a photographer with years and years of experience in Residential Real Estate photography I know that when it comes to making interiors and exteriors look their best, snapshots with your camera don't cut it. Hiring a professional photographer isn't always in the budget, either, but quality real estate photos are CRUCIAL to selling homes today, and here's why…
In 2020, 97% of homebuyers used the Internet in their search for a new home. Ninety-Seven Percent! This means buyers are relying on top-notch photography to help them make one of the most important purchases of their lives.
Great looking real estate photos are essentially online curb appeal. They can make all the difference in a buyer choosing you or the other seller when they're trying to decide whether or not they invest their valuable time in touring your property.
This happens all the time: Let's say a buyer is house hunting. They find two houses in the same area while browsing online. Both houses have similar features and pricing, but one seller has higher quality photos. Who do you think the buyer will call first? Read my book, do even some of what it says, and YOU will be that seller.
In Residential Real Estate Photography for DIYers, I show you how to create more professional-looking photos, no matter what your skill level is now.
Do any of these describe you?
Agent or broker?
Property Manager?
Landlady or landlord?
Investor?
AirBnb or Vrbo host?
Professional photographer adding a new service?
Breaking into pro photography and need a shortcut?
This book delivers!
What You Will Learn
How the online viewer thinks and acts when looking at properties  (this is HUGE!)
What gear I use, why, and their costs
Which camera settings to use and why
When editing, how much should you tweak a setting?
My "Secret Sauce" for quickly controlling unwanted color
List of free and low-cost photo-editing apps
and those are only a few of the many!
Residential Real Estate Photography for DIYers will inform, elevate and even entertain you. And guess what? It's only $27!
Now, here's the 2nd and 3rd best parts, the price and guarantee:
Most people would expect an amazing guide to outstanding Real Estate photography like this, packed with so much valuable information, to cost upwards of $64, but it can be yours for only $27.
REFER A FRIEND – REAP A REWARD
an incentive to share
with colleagues and friends
Are there others in your circles who would benefit from posting better, more competitive, photography?
Give them this link and score a free eBook when they buy.
IN OTHERS' WORDS
Anyone (even me) can claim they have what you need, but what others say is what really counts. Here's part of what one of the "others", Lauren W., a RE investor, who does her own photography, had to say:
"Though I have shot photos for houses that did sell, I'm now wondering if they would have sold faster or for more money if I had shot them using tips I have just learned."
Just One Other Thing… a GUARANTEE
Let's suppose you download this gem, read it through to the end and, for whatever reason, have 2nd thoughts. Well, I'll be left scratching my head about how that could possibly happen, but I'll also refund every dime you paid without a hassle. Fair enough?