5ive Factors
for
Fantastic Photography
There are 5 basic ways
a photo can grab and hold attention.
Yes, five.
Master them and control your viewers' attention!
WEDNESDAY, JULY 27, 2011    COLORADO SPRINGS, CO
I was on somebody's roof having a doubt attack. A roofing company had hired me to shoot one of their nicer projects to use in a brochure. I was wondering how I was going to make photos of a roofing job, of all things, that would actually be appealing enough for a compelling marketing piece. This wasn't going to be nearly as easy to get great shots as a trip to a botanical garden!
Then it hit me: "Hinson, just use the same 5  factors for fantastic photography that you've taught so many others to use!" (Duh! Even the guy who teaches the secrets sometimes slips into default thinking.)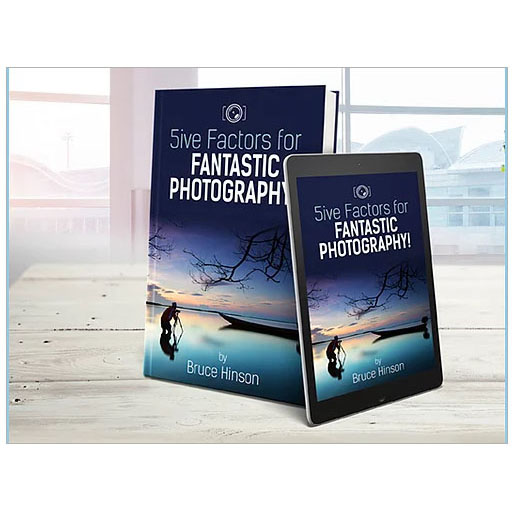 Too many photographers, amateurs and, uh, even pros alike, use mainly their (our) gut instincts to inform their (our) decisions of what to shoot and how to shoot it. Sometimes that works. Sometimes not. Rolling the dice does not a great photographer make.
LESSON LEARNED: If the 5ive Factors for Fantastic Photography can work on a mundane roof, which happily happened here, imagine what they can do for whatever YOU like to shoot! (Assuming YOU shoot more interesting stuff!)
GUT INSTINCTS ALONE ARE UNRELIABLE
Shooting mainly by intuition won't cut it consistently. It is literally guesswork, and the results are too often not what we'd hoped for. As artists, we need good instincts, sure, but we need firmer, more reliable guides for our work, too. In this digital world where pixels are cheap and it seems like the rule is to just "shoot and hope," are there really dependable, scientifically proven principles we can use to create consistently superior images?
Funny you should ask! It's the same question I began asking back in the "Film Age" and went deep digging to find out if there was an answer. What I came up with was amazing. After quite a bit of unpacking I was able to boil it all down to what is now known as the 5ive Factors for Fantastic Photography.
There is zero risk here. You have a full 60 days to decide. If you're not completely satisfied with your purchase and want a refund, just ask and you'll get back every penny you paid.
P.S.  After you download the5ive Factors for Fantastic Photography, you'll start receiving helpful tips on how to get the most out of it, along with suggested assignments to put what you've learned into practice.
In this easy to read, understand and apply eBook you WILL…
See why these 5 factors work every.  single.  time.
Understand and be able to explain with authority why a particular image is marvelously magnificent, merely mediocre… or somewhere in between.
Sync your feelings (right brain) with your new understanding (left brain) while shooting and editing to create consistently appealing images.
Gain the confidence to use (almost) any camera to shoot (almost) anything 5X better!
Learn how to emphasize those parts of a photo that clarify your message to your viewers.
A very little bit ABOUT THE AUTHOR
Chief of Photographic Services on government contract, at Diego Garcia, a British-owned island in the Indian Ocean. 1989
Sole photographer on what was nicknamed the "Star Wars" project, at highly secure military base in Colorado. 1990 – 1994
For more experience detail (See ABOUT Page)
Professional Competition Awards, 28 and counting, state and national level (See ABOUT Page)
Education: B.A., Colorado Christian University; Completed 2 years at Brooks Institute in Santa Barbara, CA.; Numerous professional workshops and seminars on commercial, portrait and wedding photography
Designated a Certified Professional Photographer 2x. Once in the "Film Age" and more recently in this "Digital Age." (FOR BETTER UNDERSTANDING CLICK HERE)
A FEW REVIEWS
"Bruce is a masterful teacher. His ability to explain the complexities of the art and science of photography in a fun, yet simple way makes him so. I recommend him to anyone who wants to learn photography." –  Philip C. Chevallard, PhD, Associate Professor of Humanities, Colorado Technical University
"You are a natural teacher, who not only knows his subject well, but who knows how to help his students grasp the concepts. You are one of those rare teachers who has inspired me to learn and experiment, and generally feel better about what I am doing in photography. Last but not least, you have a very warm, kind and patient personality."  –  Kathee H., workshop student
For more (humbling) reviews (see In Others' Words)
LET'S WRAP THIS UP
You've gotten this far, so I'm assuming you're in love with photography and want to learn all you can. Well, here's your chance to develop the most fundamental skills you can find toward improving your ability to:
communicate competently with a camera!
find your voice through a lens!
intelligently critique most 2-dimensional art and defend your answer!
shoot and edit with unprecedented purpose!
All that and much more for only $27 USD
(I've been advised that this is worth at least $44.95 USD, but I want as many who really want it to have it.)
Let's make this really worth your while! For the time being, I'm including my super-helpful eGuide, Going S-T-E-A-D-Y with Your Camera. It's packed with tips, tricks and techniques to keep your camera steady in (almost) any situation and avoid the frustration of fuzzy photos.
(MORE ABOUT THE BONUS HERE)